Esta es la noticia:
.
Cabinet approves transfer the purchase amount from the dinar to the dollar at the Central Bank
03-09-2013 - 17:41
| Source: News Source
Economy and Business
alsumaria
Alsumaria News / Baghdad
The Council of Ministers approved, on Tuesday, to convert the purchase amount from the local currency to the U.S. dollar at the official exchange rate by the Central Bank of Iraq.
The General Secretariat of the Council of Ministers said in a statement received "Alsumaria News", a copy of "The Council of Ministers held today, its thirty-eighth regular in Baghdad headed by Prime Minister Nuri al-Maliki."
The Secretariat explained that the Council has agreed to transfer the purchase amount from one currency Iraqi dinar currency to the U.S. dollar official exchange rate by the Central Bank of Iraq," indicating that "the payment will be under the letter of credit is opened in banks in the country of purchase in the case of direct purchase of outside when absolutely necessary. "
http://www.alsumaria.tv/news/82058/مجلس-الوزرا-يوافق-على-تحويل-مبلغ-الشرا-م/ar
Esto es lo que dice el gran embustero JM que es un experto en la manipoulacion y juego de palabras: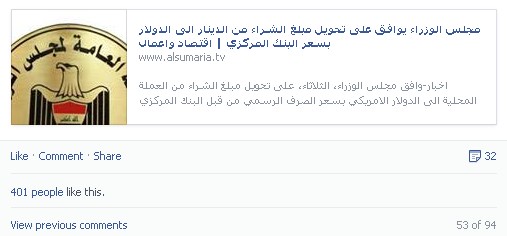 La noticia en nada tiene que ver con el cambio de moneda AKA revaluacion. Nada que ver y no es la primera vez que lo hacen.
ACLARACION DE COQUI:
El Gobierno del Iraq utilizan dolares del petroleo exportado para comprar dinares del CBI a la tasa oficial, que es 1.166 dinares más 2 comision dinar o 1.168 dinares por dólar.
En el caso de que el gobierno necesita dolares para compras en el extranjero, etc la CBI depositar dolares a cambio de dinares a la tasa oficial CBI.
El credito significa simplemente que cuando la CBI recibe el dinar que depositen el dinero en el banco especificado por el Ministerio de Hacienda para su uso segun lo dictado por el presupuesto.
Igual como siempre lo han hecho, esto es solo la renovacion del acuerdo.
OJO AL PILLO!!! Tengan mucho cuidado con ese estafador de informaciones que lo de el es insuinar y coger a la gente de pendejo con el fin de causar histeria y ventas y asi llenar su bariga y bolsillo de dolares.
Los cuentas de adas se acabaron.
Aun no han leido lo que dijo el FMI sobre la politica monetaria de IRaq? Les refresco sus memorias:
La siguiente informacion localizada en el informe del IMF desmieNte los embustes del Sr. James Mendez y sus amigos embusteros del rv:
14.
El tipo de cambio fijo de facto de Irak ha servido bien
. Las autoridades coincidieron en que un tipo de cambio nominal estable proporciona una valiosa ancla para las expectativas de inflación en un entorno de incertidumbre,
y tiene la intención de continuar con la aplicación de esta política en el futuro previsible
. En el mediano plazo, el personal AVISO a las autoridades a considerar la creación de las condiciones que hagan posible un movimiento a una política de tipo de cambio MAS FLEXIBLE.
Esta flexibilidad podría PERMITIR UNA APRECIACION Y GRADUALMENTE SUBIR EL VALOR DEL CAMBIO,
provocada por los fuertes ingresos del petróleo y el efecto Balassa-Samuelson,
para dar cabida a una posible APRECIACION DEL TIPO DE CAMBIO REAL
, manteniendo la inflación interna Baja...!!!!
Fuente: IMF pagina 14 del informe
http://www.imf.org/external/pubs/ft/scr/2013/cr13217.pdf
Definicion:
Apreciacion: Un aumento en el valor de una moneda en términos de otra. Monedas aprecian entre sí por varias razones, incluyendo las entradas de capital y el estado de la cuenta corriente de un país. Normalmente, un comerciante de la divisa cotiza un par de divisas con la esperanza de apreciación de la moneda de la moneda base contra la divisa.
Fuente: Investopedia
http://www.investopedia.com/terms/c/currency-appreciation.asp
Revaluacion: Un ajuste calculado a tasa de cambio oficial de un país con respecto a una referencia elegido. La línea de base puede ser cualquier cosa de los salarios a los precios del oro a una moneda extranjera. En un régimen de tipo de cambio fijo, sólo una decisión por parte del gobierno de un país (es decir, el banco central) puede alterar el valor oficial de la moneda. Contraste de "devaluación".
Fuente: Investopedia
http://www.investopedia.com/terms/r/revaluation.asp
En Foro Coqui Dinares mantenemos un seccion dedicado a los informes del IMF sobre Iraq. Los invito a ponerse al dia con la misma entrando al link:
http://coquidinares.forumotion.com/f9-fondo-monetario-internacional-iraq
OJO AL PILLO!!!  El Sr. James Mendez es un experto en el juego de palabras y le gusta utilizar y manipular TITULOS DE NOTICIAS cuando las mismas dicen que el iraqui dinar va "
SUBIR DE VALOR"
. Por dicha practica de juego de palabras es que la gente cae en su esquema de ventas.
Por ultimo, NO habra revaluacion del iraqui dinar. El informe del IMF sobre la politica monetaria cubre 2013-2018.
Suerte.
Coqui